As my friend Melody put it, "How are you going to account for 24/7, 365, for the past 15 years?" TOUCHE, Mel, touché. It will be hard, but sometimes you have to put yourself in difficult situations for the one you love. My photographic memory should serve me well on this endeavor.
This post is inspired by the fact that last weekend I made some questionable comments about Justin and my affections for him. I'm not going into details, but all I will say is #undergroundrailroad
TIMES I/WE/YOU HAD IRRATIONAL THOUGHTS ABOUT JUSTIN TIMBERLAKE
A Memoir by Kirbie Johnson
(and probably 27.5 million other women)
(hence the interchangeable I/We/You)

1. When he creepily broke into Britney Spears' house, made a sex tape, and then watched her shower from the closet like an effin' psychopath, BUT STILL LOOKED ADORABLE.
HO!
I would die to bite those lips...
He needs to be on a 5150 hold, and I don't even care. LOVE ME.

2. When we all thought Mirrors was about Jessica Biel, and we died inside (because S'CUTE!), but then realized he wrote it for his grandparents, and then we were all like YAAAAASSSSS, there is still hope! Hope for our future, Justin Randall!
BYE FELICIA!

3. When he grew out his hair from the ramen phase and he had his giant curls and we permed our hair because it made us feel closer to him. (Or maybe that was just me?)
"Wassup baby gurrrrlll" - Justin

4. When my mom told me she was going to name me Justin if I were a boy, and I knew we were destined to be together.
Don't mock me, JT.

5. When he played a model in Model Behavior and kissed the fake model chick and we all thought THAT SHOULD BE ME. ME!!!!!! (I was 12. He was 18. Not weird at all...)

6. When he told Barbara Walters he likes a girl with "junk in the trunk" and we all immediately thought we had the upper hand on the girls who didn't have big booties. (Skip to 8:08 for that quip.)
(Actually, watch the
whole damn thing
and die of shock with what Babs was able to get away with in this interview! Then come back from the dead and cry because you'd be mortified if this was your ex-boyfriend. And then laugh because, YEAH RIGHT, you love Justin, regardless of if he basically announced your non-virgin status on national television. And then maybe check yourself into a mental hospital.)

7. That time he ripped of Miss Jackson's (if you're nasty) boob cover and exposed her nip to the free world, and got (presumably) banned from ever performing at the Super Bowl again for subjecting families and small children to nudity, and we thought the FCC needed to get a grip and calm down. (And also, the Super Bowl was in Houston — why wasn't I there for this?)
8. When you went to New York City and insisted on eating at Southern Hospitality because you needed to support your future husband's entrepreneurial endeavors, and also, you thought he might swing by and have dinner with you and your mom.

9. When he was caught having a mental breakdown on Punk'd, and you felt assured knowing your future children would be sensitive, just like Justin.
bae bae

10. When he made a movie that was practically a remake of No Strings Attached (with the addition of a flash mob), which was released six months (or something) afterwards, and you were disgusted that people ever thought to compare the two. (PS Friends With Benefits is actually my favorite JT movie, ever. Stick to sex, bae.)
11. When you pictured how lovely it would be when you both take your kids to Disney World and one of them would get to wear daddy's letterman jacket from MMC! "It's okay JayTee, you'll get your turn after Justen and Juztin get to wear it."
More like "leader of my heart"
12. When he sang "I Love Sports" while hosting the 2008 ESPYs, and you thought he could possibly flourish as a professional athlete.
13. When you briefly considered naming y'alls first born daughter Jo-Jessica or K-Smoove because you liked the way he said it.
You gotta recognize yo' sedimentary rock formations!
14. When you considered only Apple Jacks and Baked Ziti as food groups because Justin loves both.
15. That time he appeared on
Loveline and looked traumatized
, and you knew it was for the best. (For y'alls future in the bedroom.)
I WAS JUST A CHILD!
16. When *NSYNC appeared on
Celebrity Dream Date
and you envisioned your children all looking like baby Justin.
REJOICE FOR CUTE CHILDREN!

17. When you actually found him attractive in doll form. (Skip to 1:05)
Side note: the resemblance in dialect JT has to Justin Bieber as an 18/19-year-old is slightly concerning. (PS - Here's Britney's "
(You Drive Me) Crazy
" Making the Video, just for shits and giggles.)
18. When you briefly considered walking down the aisle to "Love's Got a Hold On You", based on this stunning performance.
19. Or "I'll Take You There." (The bandana phase wasn't reserved just for the early millennium, obviously.)
20. OR "
I Feel For You
."
I think I loooooove you
21. When he danced, you felt as if you were watching an icon electric slide right before your very eyes. -- THIS ISN'T IRRATIONAL, OBVIOUSLY, because the man IS an icon. Bandana and all.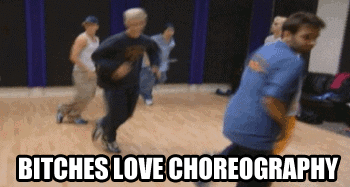 23. When you absolutely could not with any of these.
nope.
Can you not? Thanks.
*cries*
Oh sweet mother
Tell me more...
WHAT IS LIFE
Please stop taunting me. YOU'RE MARRIED.
-_-
I hate everyone.
24. When you realized you could beat him in a rap battle by performing "Forgot About Dre." And then became immediately concerned that would be the only thing you could bring to the table in terms of talent for your future children.
25. When you thought about how he could possibly end up destitute on the streets, but it wouldn't matter, because how adorable would he be dressed up in costume while twirling one of those liquidation signs?
26. When you went to the gym and fantasized that he sang this song about you after you broke his heart.

27. When you thought he'd be proud that you recognized this track from the Mary Kay commercial was actually a rip of some "I Think That She Knows" remix.

28. When you decided oversized turtlenecks were all you wanted to wear for a year solid. (Timberland boots optional.)
29. When he played the intro to What Goes Around on the piano and you knew, without a doubt, your souls were becoming one.
30. When you made your own retrospective of his hair over the years and realized he hasn't ever grown it out long, a la Robin Gibb, and thought he should strongly consider it. (Brazilian Blowouts are life-changers, Jus'.)
I want to taaaaaaaalk to you
And unrelated, but a reminder of yesteryear: