Hi friends,
Holy hell, it's been a minute since I've blogged. I know I've been slacking, but do people even blog anymore? I miss writing so I want to get back into the swing of things, but not if blogs are irrelevant. Please comment and let me know if you appreciate these posts are nah.
Anyway, it's ~Cyber Monday~ and although the term "cyber" truly creeps me out (early millennium AIM convos, anyone?), the deals today are fabulous. You don't even need to leave your couch to take advantage of them, which is great, given people are absolutely terrible when it comes to holiday shopping. Keep your faith in humanity and shop on the internet!
All of these products/brands are tried and true, meaning I tested them and I personally recommend them. Happy holidays!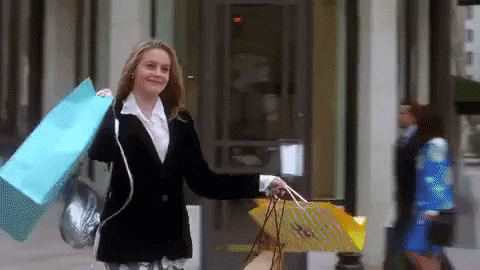 BeautyBlender All.About.Face Set
- $25 (originally $42)
This is a deal I've been looking for! BeautyBlenders — a single blender — is $20. This set gives you the original blender, the beauty.blusher for your cheeks and the micro.mini which is for highlighting, contouring and concealing, however I keep it in my purse to get rid of oil, similar to a blotting sheet.
Dermstore
- up to 30% off sitewide + 25% off
Harry Josh Pro Tools
using code CYBER
Dermstore has a gaggle of great products and brands, like Sunday Riley,
Harry Josh Pro Tools
(the iconic mint green hair dryer, hello!) and Kevyn Aucoin. Participating brands (like the ones I just mentioned) are eligible for 30% off! I'd recommend getting
Sunday Riley Good Genes
and
CEO
,
Kevyn Aucoin The Volume Mascara
,
Caudalie VinoPerfect Radiance Serum
and
EltaMD
(my favorite sunscreen).
Benefit Cosmetics Roller Lash Mascara
- $12.50 (originally $25)
CHATBAGS, THIS AIN'T A DRILL. IT'S HALF OFF. GO GET 'EM.
Bite Beauty Four Little Bites Amuse Bouche Lipstick Set
- $15 (originally $25)
Bite is one of my favorite lipstick brands. If you are in LA, definitely stop by the Bite Lip Lab to create your own lipstick. It's a great experience and it's totally customized to you! (There are other locations around the country -- look it up.) If you can't get to a lab, the next best thing is buying their decadent pre-made lippies, and as a travel fiend I'm a huge fan of these little tiny guys.
Best of Kiehl's Set
- $39 (originally $66)
If you want to test out Kiehl's for yourself or want to give someone an offering, this is the set to do it with. It includes all of Kiehl's best-selling favorites like Creme de Corps and the Ultra Facial Creme. You'll be a Kiehl's stan in no-time. (And if you want more Kiehl's recs, the
Youth Dose Eye Treatment
and the
Powerful Strength Line-Reducing Concentrate
are my faves.)
Anthropologie Capri Blue Scented Jar Candle
- $21 (originally $30)
By far the best smelling candles EVER. Makes a great host/hostess gift, too!
Becca Ultimate Glow Trio
- $38 (retails for $57)
Becca makes some of the best highlighters in the game, and if Chrissy Teigen is willing to partner with you, it's a win in my book. The Ultimate Glow Trio includes three (duh) pressed highlighters in best-selling shades Moonstone, Opal and Champagne.
Oribe Space.NK Apothecary Signature Essentials Set
- $39 (retails for $51)
I spend my own hard-earned money on Oribe haircare because it's one of the best on the market. I'm obsessed with the dry texturizing spray, which could double as a fragrance. This set includes travel sizes of the spray plus the signature shampoo and conditioner which moisturizes and adds shine.
Kevyn Aucoin Beauty Mascara Madness Duo
- $36 (retails for $60)
Kevyn Aucoin was before his time and left too soon, but made a permanent impact on the beauty industry as a whole. His line is filled with staples that are just as classic as he was. I'm a mascara junkie and cannot get enough of The Volume Mascara because it of the thin wand -- it coats very lash with a tubing effect. It's paired with another best-seller, The Essential Mascara.
LightStim For Wrinkles LED Light Therapy Device
- $186.75 (originally $249)
Light devices are crucial for aging gracefully, as I learned back when I was 21 and had no business caring THAT MUCH about aging. Light therapy can be used to boost collagen production and help with acne. This device from LightStim focuses on wrinkles while smoothing your skin's texture, evening out your skin tone and helping with under-eye puffiness. Dermatologist and estheticians highly recommend LightStim and it's FDA approved, THANK GOD. This is a great deal for this particular device imho.
Impressions Vanity Co. Slayssentials Pro 18-inch Rolling Makeup Case
- $109 (originally $129)
If know an aspiring makeup artist, one by trade or know someone who hoards makeup (like moi), this rolling makeup case will be their best friend, and easilly one of their most-used products. Traveling and containing makeup is a major pain in the butt, but in this case they can keep it organized without having to pack 45 small makeup bags in their suitcase.
Kat Von D Everlasting Obsession Lip Liner Collector's Edition
- $140 (originally $200)
Kat Von D's lip liner formula is so smooth, so creamy that I typically wear them alone. The range includes 15 shades so you can unleash your inner artist, from a navy blue to a flouresent pink and my personal mainstay, Lolita II.
Make Up For Ever Glitter Dust Set
- $27 (originally $39)
Time to start thinking about holiday partys and New Year's Eve! For me, that often means thinking of how much glitter I can pack. I am truly obsessed with Make Up For Ever's Starlit Diamond Powders. They are finely milled and look so, so stunning on the skin. You can use them as highlighters! This set also includes two glitter pots for a more dramatic lewk.
Eborian Liquid BB Créme Au Ginseng Cushion Compact
- $26 (originally $48)
Eborian does NOT get enough credit for the amazing skincare products they tout. They create gorgeous coverage products that provide serious skincare benefits. The cushion compact is a hot product in Korea and is majorly discounted -- don't sleep on this!
t3 Singlepass Curl 1.25'' Professional Curling Iron
- $129 (originally $160)
I wrote about t3 years ago because they were one of the first brands to start the rose gold trend. Their tool are so goregeously crafted and have a great shelflife, meaning they aren't going to start creaking or break after a few months. I love their curling irons because I feel that they actually help my hair to look better because it eliminates frizz. This size is perfect for those effortless "cool girl" waves.
Lime Crime Velvetine Lipstick
- $10 (originally $20)
Ulta isn't playing around. 50% off? Hell yeah!
Dose of Colors Desi x Katy Lipstick
- Buy 1 Get 1 Free
I really love this collection from Desi x Katy. The shades combined with Dose of Colors' formula is *chef's kiss.*
Bold and Bad Lash Mascara
- FREE Gift with Purchase after you spend $45 on MAC at Ulta
This is another mascara that I'll always have in my library. The wand for the main applicator is perfection, feathering every single lash. The baby wand is perfect for bottom lashes on those pesky corner lashes.
Ardell Lash Wispies 12 Piece Pack
- $24 (originally $40)
Lash fiends, get yourself an entire library of lashes. This set could easily get you through half a year.
Dyson Hair Dryer
- $399 plus two free gifts
Sadly the Dyson Hair Dryer and AirWrap are not discounted, however, if you purchase a dryer you get the option to pick out two free gifts, like a display stand (which retails for $80), a detangling bomb, storage back or presentation case.
t3 Cura Luxe Hairdyer
- $229 (originally $285)
Another great hair dryer that I think is sorely underhyped is t3's Cura Luxe. The best thing about this dryer is it has an auto pause sensor. So if you put down your dryer, you don't have to worry about turning it off; the airflow pauses automatically until you pick it back up again.